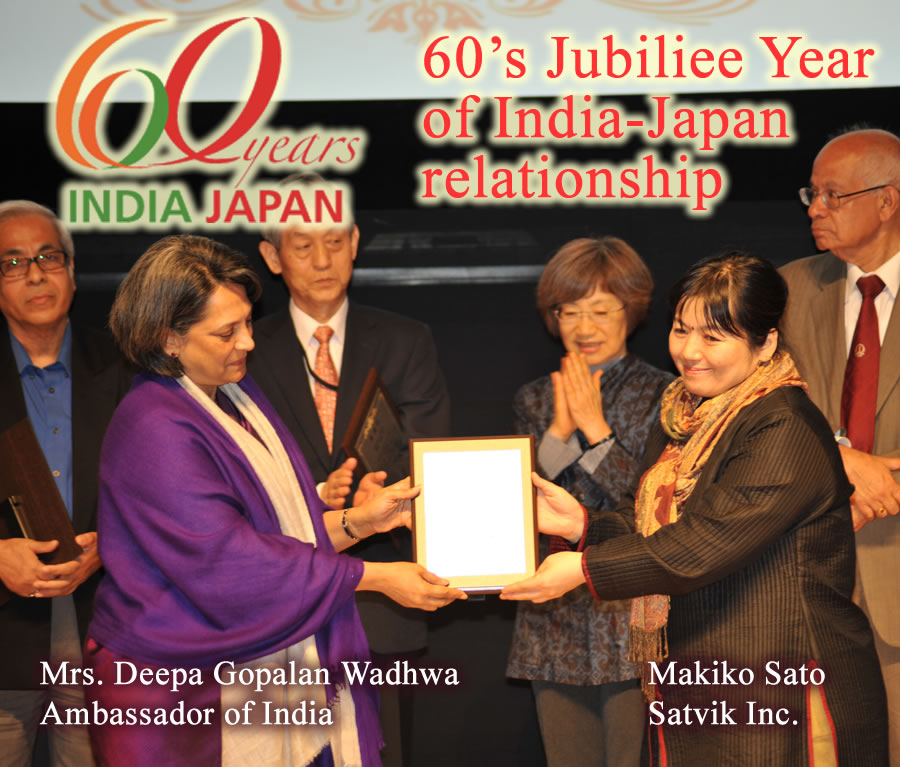 Name:Satvik Inc.
Established:since 2007
Address:1-12-25-102 Miyamae-ku, Kawasaki-shi Kanagawa, Japan,216-0033
Capitalized at:three million yen
President:Ms,Makiko Sato
Main Bank:Tokyo UFJ ,State bank of India
Specialised in:Education, translation, Interpretation, Import, Editing of books and DVD, publishing a magazine. Consultation, events, all regarding about Ayurveda and Indian ancient culture.
Management of Ayurveda Museum in Japan
Profile of Ms,Makiko Sato president of Satvik Inc.
Ms,Makiko Sato
1962,born in Tokyo.
1985, B.A. from International Christian University,Tokyo.
Working for some Japanese famous TV news programs ,(NEWS STATION /TV-Asahi, SUNDAY Morning /TBS)as a news reporter and a broadcasting writer.
1990. Start learning of Ayurveda.
Graduate from Japan Ayurveda School specialist course and Pharmacology course from Osaka Ayurveda Institute.
Working as a therapist for Hatai-clinic (by Dr,Ben Hatai) and some client in abroad such as Italy, Korea. Chief editor of Shanti Marga Magazine,which is only one Ayurveda Magazine in Japan.(published by Japan Ayurveda Academic society.)
Recommendation as a Therapist, as an interpreter, as a lecturer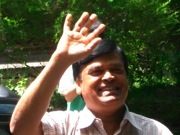 Ms. Makiko Sato, Ayurvedic Panchakarma therapist,Tokyo, Japan, is known to me since 10 years. She has undergone Ayurveda course from Ayurveda School, Tokyo under eminent Ayurveda scholar Dr. U.K. Krishna. She has also undergone theoretical and practical training on Ayurveda in general and Panchakarma in particular from various prominent Ayurvedic centres in India viz., Pune, Delhi and Kerala. She has participated in many workshops and conferences on Ayurveda and has gained sound practical knowledge in Panchakarma. She delivers lectures on Ayurveda in Japan and also provides treatments in Japan and abroad.
Ms. Makiko Sato has very good command on English language and is a well known Japanese-English translator. She is a famous writer and author of many books.
Ms. Sato is a hard worker, honest, sincere and possesses exceptionally good Character.
Whole heartedly I wish her all success in her life.
DR. BHEEMA BHAT, M.D. (Ayu).
Advisor for W.H.O. Ayurvedic project
Senior Ayurveda Consultant & HOD,Department of Ayurveda,Holy Family Hospital,New Delhi
Recommendation as an interpreter by Dr,Krishna U.K.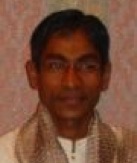 "Ms. Sato Makiko has been studying Ayurveda both in India and in Japan since man Japan since many years. She is a devoted student of Ayurveda with proper knowledge. She has been actively involved in translating the Ayurvedic lectures of visitors from India since many years. Her knowledge of Ayurveda and hard work has made her a good Translator and has given her a special place in the world of Ayurveda in Japan as a translator.
Dr,Krishna U.K.
Asst. Director, The Institute of Traditional Oriental Medicine in Japan
Director, Nippon Ayurveda School, Japan
My experience of Pancha Karma
text by Makiko Sato
When I was treated in India, a lot of "pumpkin pudding" came out of my stomach and as a result of this, my body spontaneously rebalanced and healed itself. Incredibly, my long-standing lumbago had been cured! I liken the experience to a champagne bottle popping its cork. My friends were amazed by my stories as I retold my experiences with so much excitement, that I was almost incomprehensible. It all began In June 1998 when I visited an Indian Doctor who was visiting Tokyo.
He hit the nail right on the head!
Dr. Sadananda Sardeshmukh comes from a family with ten generations of Ayurvedic doctors, and specializes in the ancient mastery of pulse reading. In 1998 I was fortunate enough to have my pulse read by him when he traveled to Tokyo to visit his brother. On the day of my examination I wasn't allowed to take any food or water from the moment that I got up until after I had my pulse read. Fortunately, I visited the Doctor early in the morning. As soon as I entered the room, the pulse reading began without any formalities. The doctor bowed to me, then he held my wrist and concentrated for about 1 minute in silence. As we had never met before I was very surprised when he started telling me of my condition and medical history. I had thought that it wouldn't be any fun if he could tell so much of me by my appearance, my clothes and my manner so, quite unlike me, I wore a dress and behaved with downcast eyes. Nevertheless, Dr. Sardeshmukh was very perceptive as he was able to confirm my fearless character, and I was given the feeling that he hit the nail right on the head.
His comments about my health were equally accurate. Firstly, he pointed out my problem with irregular periods. In the past I had used steroids for the treatment of asthma, and as a result of this I had had only a few periods a year since my first period. Hormone treatments had never worked for me. He then pointed out another eight items, including lumbago, which were all correct. It was so surprising that he could know so much about me just by reading my pulse. I weigh 83 kg, and I thought that maybe he had guessed my condition from my figure and appearance. I am familiar with the workings of the backstage of a fake TV program for supernatural power through my work, and I was therefore unsure whether to believe what I was witnessing or not. I said to the Doctor, "Well, I can not do much about my lumbago because I am so fat." He gave me an unexpected answer saying, "You are not fat….?!" But he, who sat before me, was fat! Where were his eyes? While I was silenced by my astonishment, he said "You are not fat, you are only swelling." I burst into laughter, surprised that there was such a saying. He continued his explanation with a serious face. "Your digestion is very weak and your cycle for metabolism is not good, therefore, fat can not be burned off. Your hands and legs are swelling due to inflammation. " So if it is swelling, I thought, would it be reduced by having treatment? I decided that it would be worth spending my summer holiday on such treatment and so I left for India one month later.
Pune, where Dr. Sadananda lives, is the eighth biggest city in India with a population of 2 million. It is a town famous for the Deccan plateau, which is located about 170 km from Mumbai. I had previously visited the plateau in August during the rainy season, and noted that the weather was similar to that of the Japanese summer resort, Karuizawa.
My treatment was conducted at the Ayurveda Hospital and Research Centre in Wagholi, which is about a 20 minute drive by car from Pune. The 63-acre estate is spread out at the foot of the Table Mountains in the fertile and green farming region. The estate combines the hospital with a herb garden, pharmacy and an Ayurvedic college. Cottages, which house the patients, are placed in the center of the land and grazed cows tranquilly eat grass nearby.
On my first day, I arrived in Wagholi at 10 a.m. After a doctor asked me detailed questions about my current health and medical history, I was able to spend the entire afternoon resting. There were no sounds surrounding me. In Japan, my house is located in a quiet area, however, Wagholi had a different level of silence, different to anything I had ever experienced. In the deep stillness, it seemed that silence was able to enter my pores. I felt a mysterious vibration filling my body. As I am not a spiritual person, it was an unusual experience for me. I noticed that there were a lot of crystal like stones on the ground, and I wondered if the land itself had some special power.
The land was bought by Dr. Sadananda's father who upon advice from his guru (teacher), developed the foundation for the purpose of spreading the Indian traditional cultures of Ayurveda and yoga. These systems for health treatment have been taught orally for many years. The aims of the foundation include building a hospital with 100 beds in Wagholi to treat home and foreign patients, and also to establish an education organization attached to the hospital to pass on the tradition to the next generation. The hospital is a small octagonal one-story building with a span of only 30 meters. Despite its size it is not only the clinic for the foundation but also for the entire Wagholi region as the district is a rural farming area with few doctors.
On the special day of the Cancer Project, some patients came from distant places. I asked one patient who came from Calcutta why he had traveled from so far away. We both laughed at his response: "You are the person who came from the most far away place. Why did you come all the way from Japan where there exists excellent hospitals?" It seemed the pulse reading of Dr. Sadananda had quite a good reputation. All of his patients came to see him purely on word of mouth as he did no advertising what so ever.
So what about the effects of the treatment? I was fortunate enough to observe the medical examinations and treatments of the cancer project patients. The conditions of many of whom have improved greatly by Ayurvedic treatment. I was most impressed by a 60 year old male patient who had been diagnosed with larynx cancer. The first time he had visited the clinic he could not even swallow saliva but after 15 days of Ayurvedic treatment he was able to swallow almost anything. Another male patient, who also suffered from larynx cancer, was advised by other doctors to have his vocal chords removed as this was, in their view, his only choice. He had lost his voice completely but after visiting the hospital regularly for 3 months, he was able to speak with a husky voice. I had heard of Ayurveda being used as a preventive medicine administered by Japanese Ayurvedic doctors, however I was surprised to see it being used so effectively as a treatment medicine as well. At this stage I did not know I would be able to experience this miracle for myself.
I stayed in one of the cottages for patients, which was a one-minute walk from the hospital. The beautiful new room was furnished with a clean bed, closet and shower room with hot water and was not unlike the hotels in Pune city. The schedule for each day was as follows. It began with a twenty-minute early morning walk at 7am. After having breakfast, I met with my Doctors followed by a walk in the herb garden. Both exercise and napping after meals was not allowed especially for a person like me who has a "Kapha" constitution. Treatment time was from 4 p.m. to 6 p.m. and bedtime was at 10 p.m. There was another Japanese woman staying in the hospital with me. She had a straight "Vata" constitution and so was thin like a child, completely opposite from myself. Due to our differences in constitution her treatment was opposite to mine. She got up at 6 a.m. and had her treatment first thing. After having breakfast she was suggested to take a nap during the morning.
It quickly became clear that the treatment for each patient was specifically tailored to account for the individuality of each case, including details such as lifestyle and meals. For example, this lady with a "Vata" constitution was instructed to eat fruits in the afternoon. The meals were designed for each patient right down to how many "chapattis" (flat, Indian-style bread) they should eat at each meal. I asked whether it was difficult or not to take such care for each patient. "Each patient has a different constitution and condition so it is scientifically necessary", was the response. In this case, "scientific" is used differently to what we imagine this word to mean. In Ayurveda it means "shastra: logic, rule and principle". The doctor told me "In classic books of Ayurveda, there is no line written ambiguously. As everything has logical proof, we should not change the principle for our convenience. The best effective methods are written through observation of nature, so it is meaningful to follow the principles." Principals are principals, but I figured that there must be room for some flexibility. For example, I was advised to take proper rest. Since I thought that this meant that I should simply not be physically active, I started to talk loudly with the woman in the next room. "Makiko, rest is rest." My doctor told me, "Excitedly chatting is not resting, you should take a rest properly when you have to. It is the principal." Is this really true? Was there any rest in my life in Tokyo?
I changed into a gown and went to the hospital at 4 p.m. The doctor, who took care of me was named Jyoti, she was a young doctor fresh out of university. In this hospital, all of the treating doctors were recent graduates. There were no experienced doctors employed, to ensure that the doctors there were completely open to being trained properly, having not yet had the chance to develop any bad habits.
In the treatment room, I lay on a bed covered in vinyl wearing only my shorts. The first of my treatments was an all over body massage with sesame oil, which lasted about 50 minutes. The pressure was slight and the motion was rhythmic. Shirodhara followed, which involved dribbling oil over my forehead in a pendulum type motion. Next came 20 minutes in a sweat-box, known as Svedana treatment. The next treatment was known as Basty or enema, a decoction made up of honey, salt and Dashamula, an Ayurvedic herb, and hot water. In order to do a hot water Basty an empty stomach is required and so 4 hours has to have passed since the previous meal.
In Wagholi time is very important. The effectiveness of some of the treatments relies heavily on the time of day they are administered. Bastys are only performed in the morning and evening. Vamana exists only spring. Pearl Basma is made on the day of the full moon.
These principals, written in the classic texts, are followed faithfully. It is said that the effects on the body of morning time can only be felt in morning time and the same goes for the evening. I definitely felt the difference in my body after a few days of a well-regulated routine. I began each day with a walk in the beautiful fields while basking in the sunrise, I appreciated the silence in the afternoon, and I watched each beautiful sunset before going to bed at 10 p.m.
At first I thought that only hospitalization would be wasteful for my vacation in India with no sightseeing. In the end, I realized that I was much richer for being able to know the meaning of appreciating nature and stillness.
After the first day of treatment, I returned to my room for a hot shower to remove the oil and lay down for about an hour. In the evening I enjoyed a chat with the doctors while drinking chai — Indian Tea. Every meal was simply flavoured but very tasty which included fresh produce without any chemicals. The Pandu family took care of the field and cows, which lived on the land. It was a precious experience to watch their simple daily life because it is so far removed from my own.
On the second day, the massage oil changed to Sahachaladi oil. The decoction Basty changed to oil. The difference between a hot water Basty and an oil Basty is that the oil one should be carried out when the patient's stomach is full. I was given a fragrant dumpling called Ladu, to eat after Svedana. It was a pleasure to eat and one was enough for breakfast.
From the third day, hot water Basty and oil Bastys alternated each day. I had to report on my excretion of them, for example, how many times and at what time, at each morning examination. Dr. Jyoti changed my treatment method little by little according to my reports and her observations. For example, although the hot water Basty usually contains 960 cc, only 400 cc was used on the third day. She said that she saw tiredness on my face, even though I didn't feel tired. Pancha Karma is hard work for a patient's body, and so the doctor needs to carefully observe such subtle differences. Dr. Sadananda often explained that observation is very important. On the fourth day of my treatment, I felt an unexpectedly heavy stomach. I was a little worried but remembered that sometimes the function of the bowels becomes dull as a side effect of Bastys. On fifth day, something very strange and unexpected happened.
"Pumpkin pudding"comes out!
On the fifth day of my treatment a hot water Basty was administered. Halfway through, at about 200 cc I yelled "stop" and ran into the bathroom. I passed a stool. The Basty process then resumed. Next, I stopped the process at about 500 cc. This time, only the inserted water came out. I thought that there must have been nothing left in my bowel but Dr. Jyoti thought I required another Basty. There was nothing I could do, I lay on the bed again. Then I shouted, "Stop!" at the level of 100 cc, she gave me an Indian chamber pot. It was shaped like a gourd with a lid. I couldn't tell which was the front or back. Never mind! I emptied my bowels on the pot. I expected only the inserted water to come out, and so I was very surprised when I looked in the pot. It was not a stool. The thing was lustrous, beautiful and bright yellow. When shaking the pot, the yellow stuff was elastic like a pudding. It looked like a real pudding from its color and shape. I gazed at it in a stupor for a little while. When I lost the energy to observe it any more I disposed of it in the toilet and returned to my room. I felt exhausted but somehow was able to take a shower. After I lay down for about an hour I noticed my body felt strangely better. When I got up, my painful back was gone! My entire body felt so good that it was as if I had grown wings.
When I was a junior high school student, the lumbar vertebrae of my spine was fractured. So I always thought that the strained bone and heaviness caused my lumbago. But the heaviness of the lower back or lumbago was completely gone. I jumped with joy. Inside my body, I felt refreshed. I didn't even feel the usual shortness of breath after running. A few days after this, I ran up four flights of stairs in the university without stopping and to my surprise, I neither felt shortness of breath nor heart palpitations. Lumbago and shortness of breath had not resulted because I was overweight, but because of a deadly toxin, known as ama, that had accumulated over time. That night, my period started. In that year, my second period visited me in August. I felt no pain. It was my first experience of a normal period with no pain.
My treatment was then stopped because my period had started. Originally, my course was made for 7 days but the results came on the fifth day.
I made a joke to the Dr. by asking him if she could make a four-day course for busy Japanese people. He made a sorrowful face and replied "It's only 7 days! Japanese people can not spend one week on their future health?"
It has been 3 months since I had the treatment. Even though I felt that my body was so right at the time, the heaviness came back little by little. When my period starts, however, all the heaviness goes. When I was taking hormone replacement there was no effect on the regularity of my period but now since the Pancha Karma , it has come every month for three months. I think that if my regular period continues, the swelling might go down little by little. To my regret, I've had no change in weight. However, my body temperature used to be between 35 and 36 and now it rarely dips below 36. Why has my body changed so much after only 5 days of treatment?
The treasure that I took from the treatment was not only my healthier body but also the peace I felt in my heart. Since that "pumpkin pudding" came out, I have been a lot less angry a lot less often. I feel peace as if a clear pool has been made between my lower stomach and back. When I was entering India the entry examination at the Mumbai airport made me angry at the inefficiency of the procedure, however, when I was leaving I was able to wait very patiently. Then, the person in charge noticed me at once and gave me priority to be checked in. I found a way to go forward naturally through eliminating the waste and consequently have not felt irritated often. Of course, I still feel anger from time to time against some things but I am so glad not to feel disgust in my stomach.
These days I have quit my job and now encourage people to experience the marvel of Pancha Karma. I have started to help the doctors when they visit Japan. At present, I have so many things to enjoy, for example, figuring out what preparation is necessary for a successful workshop. The doctor said to me once, "You have so much stress." I thought "You must be kidding! I have left my unpleasant job and think only about pleasant Ayurveda all day." The doctor said quietly "Listen, you are not God. Human beings can only do one thing at a time. But you have three or four plans and work all night. That is stressful. Night is the time for sleep. This is one of the principals. Night is night, it does not replace the day. You are living against nature. Live not against nature. Then you are able to work 2 or 3 times more productively." Ah, I sometimes need to be reminded of this principle! I now know that humans suffer from disease due to forgetting to live with nature not against it. I really think that Ayurveda is not only a medicine but also a way of life itself.